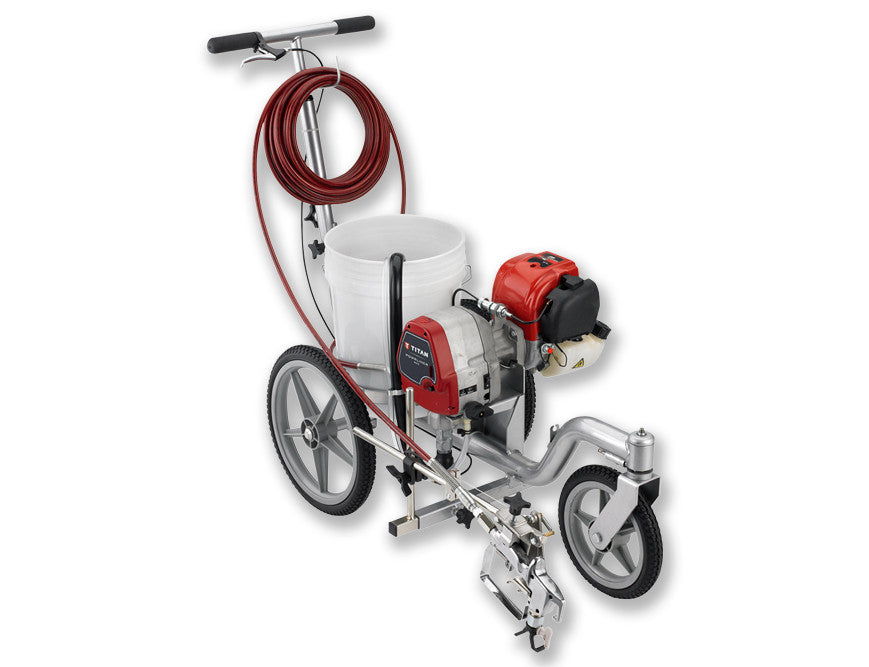 PowrLiner™ 850
CALL FOR SHIPPING QUOTE AND TO ORDER!


(217) 821-0260
The POWRLINER™ 850 is designed for entry level contractors, sports turf managers and maintenance personnel who need a basic line striper capable of high-spraying pressures for smaller jobs on pavement, grass or turf.
Features:
Gallons Per Minute: .33
Simple, compact design weighs only 84 lbs. (90 lbs crated) - easy to use, transport and store. Only requires one operator to transport and fits easily in most automobile trunks.    
Powered by a dependable, easy-starting 37.7 cc 4-stroke engine    
Equipped with a LX-40 spray gun, 419 TR-1 Reversible Line Striping Tip and a 50' x 1/4" Airless Hose.    
Designed to carry 5-gallon pail of paint.    
Removable gun for stenciling and painting.
Most advanced, low-VOC, waterborne traffic paints / NO SOLVENTS!
Specifications:
MODEL NO.0290005
MAX. TIP SIZE 1-GUN.021"
MAX. DELIVERY.33 GPM
MAX. SPRAYING SPEED106 linear ft. (32.3 m) per minute @ 1.2 mph
LINE WIDTH RANGE2"-12"
MAX. OPERATING PRESSURE3000 PSI
MAX. HOSE LENGTH50'
POWER SOURCE37.7 cc 4-Stroke Engine
PUMP DRIVEClutch Driven
PAINT OUTLET FILTER-ELEMENT60 mesh
PAINT OUTLET FILTER-FILTER AREA19 cm2 (3 in2)
GUN, AIRLESS550-540, LX40
HOSE, AIRLESS0315265, 7.5 m (25')
TIPS, AIRLESS STRIPING, SUPPLIED PER GUN1 ea., 697-419 TR1 Tip, 4" Line by .019" orifice
OPERATOR'S MANUAL313-2300
REPAIR KIT - PUMP759-365
REPAIR KIT - GUNN/A
WEIGHT - UNIT30 kg (67 lbs.)
UNIT CRATED34 kg (75 lbs.)
DIMENSIONS - UNIT41" H x 31" W x 60" L (104 cm H x 79 cm W x 152 cm L)
DIMENSIONS - UNIT CRATED38" H x 29" W x 42" L (97 cm H x 74 cm W x 107 cm L)
COATINGS COMPATIBILITY REVERSIBLE TIP.Most advanced, low-VOC, waterborne traffic paints
COMMON APPLICATIONSLight-duty striping use on parking lots and athletic fields